Mirror BoxQfora Released Mirror Box and Mirrorya App
Qfora, CEO Hong Young-Min, announced on the 1st that it has released beauty curation service 'Mirror Box' and AI beauty curation app 'Mirrorya'.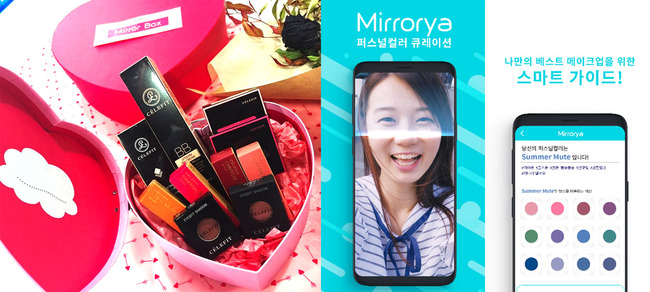 ▲ Mirror Box(left) and Mirrorya(right) launched by Qfora ©Qfora
Based on Artificial Intelligence consulting of 'Mirror Mirror', an AI voice recognition curation robot developed by Qfora, Mirror Box is a personalized beauty subscription service that adds to the humanities sensibility of 'Qny', a curator specializing in Qfora.
Unlike other beauty boxes, which consisted of cosmetics based on products with only a few expiration dates or skin information entered by consumers, Mirror Box automatically curates products suitable for Personal Color by measuring customers' skin types. Mirror box, in particular, has the advantage of drastically reducing the time required for shopping and the opportunity cost due to trial and error.
Diagnosis of Personal Color for ordering Mirror box is possible through Smartphone through Mirrorya app that was launched together. If you take a picture under the proper lighting after running the app, you can easily receive your own Personal Color analysis results.
Mirrorya also features a community function that allows users to freely exchange information such as beauty columns and postings, adding to the fun of using the app. Currently, Mirrorya is available for download and execution on the Android Play Store.
"Mirror Box is an AI Subscription service of true meaning that can develop into more appropriate formation for you through continuous product experience and feedback", said CEO Hong Young-Min of Qfora.
Mirror Box can be checked for details and applied for regular delivery on the Coloz website(http://coloz.co.kr), which operates Qfora Alliance.