QforaQfora, Conclude a Business Agreement with Myanmar's Fortune Group and Cooperation to Build Myanmar's Blockchain Infrastructure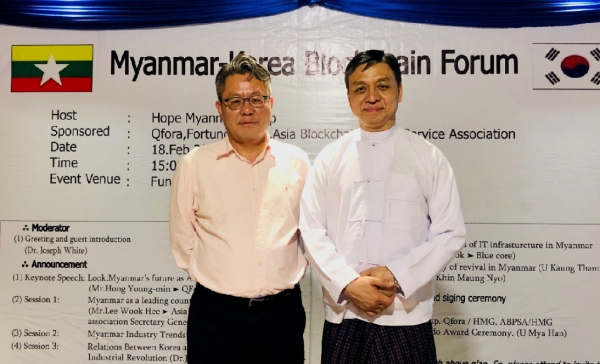 Qfora Hong Young-Min(left) and Fortune Group Chairman Mya Han(right) at the Korea-Myanmar Blockchain Forum.
Blockchain beauty·fashion platform Qfora(CEO: Hong Young-Min) signed an MOU with Myanmar's Fortune Group(Chairman: Mya Han) on the 25th with the goal of establishing infrastructure for Myanmar's blockchain and vitalizing commercial services.
Through the joint work drive, the two companies will establish a blockchain business model to Myanmar's national basic industries, establish a local 4G communication network and develop blockchain-based mobile applications.
Qfora and Fortune Group have been continuously fine-tuning detailed matters since 2018 to sign the pact, and as part of that, they also held a 'Korea-Myanmar Blockchain Forum' event at Marina Yangon Hotel, Myanmar, on Feb 18. At the time of the event, Hong Young-Min, who spoke on the theme of 'AI, big data and blockchain', and also suggested active introduction of blockchain technology through analysis of Myanmar's industrial trends.
"We expect Korea's outstanding IT technology to greatly help build up Myanmar's social network and digital infrastructure. We will continue to develop effective blockchain businesses through mutual cooperation and exchanges", Mya Han said at the signing ceremony.
"Myanmar is a new hub in Southeast Asia, and we want to improve the quality of people's lives and build infrastructure through blockchain technology in these emerging markets. With this agreement, Qfora will actively take the lead in building Myanmar's blockchain business ecosystem. The Mekong River's blockchain belt will be built in cooperation with Fortune Group and Myanmar's government", Qfora Hong Young-Min said.
Meanwhile, Qfora is scheduled to launch its AI curation service 'Mirror Box' on April 1. Mirror Box is an AI voice curator robot called 'Mirror Mirror' that allows users to receive personalized cosmetics that add personal touch from a curator specializing in Qfola on a regular basis.