QforaQfora, 2nd Personal Color Consulting Center Myung-dong Post opens on the 21st
- Beauty·Fashion Platform Qfora Opens Second Offline Consulting Center at WeWork Euljiro Store
- Open anniversary pre-event 'Color canvas' 17 days, color diagnosis service provided by Qfora curator, etc.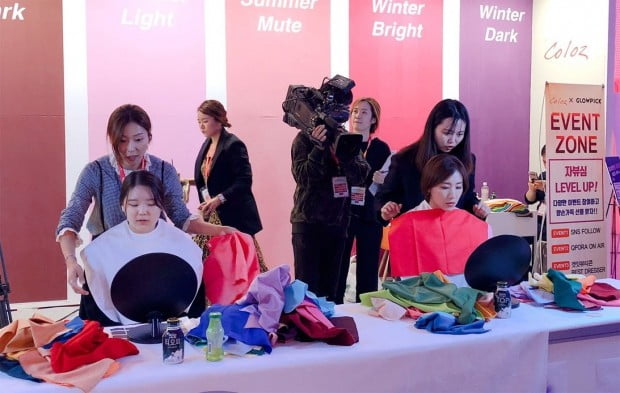 [Photo: Qfora curator running Personal Color Consulting]
On January 16, 2019, the beauty·fashion curation platform "Qfora(CEO Hong Young-Min) will open its second offline Personal Color consulting center, "Myeong-dong Post," at the WeWork Euljiro Store on the 21st. In order to celebrate the opening, a free open event called "Color Canvas" will be held on the 17th.Qfora, which is providing consulting solutions for personal colors based on Big Data analysis and AI technologies, will hold the Color Canvas, which is a free open experience event for visitors to Myeong-dong Post on the 17th. In particular, participants can receive color seminar and Personal Color assessments directly from the curator of the Qfora, and consult about lifestyle items that match their color, such as cosmetics and costumes. The event can be filmed on a color canvas event site, uploaded with the event hashtag, and three of the participants who received the greatest 'yes' are selected to present a generous gift. In addition, there will be an event that will distinguish the so-called 'Color Genius' with the most abundant knowledge of color. They will freely brief their color knowledge on the spot, and the Qfora consultants will review it and select two Color Geniuses to provide 'Warm tone' or 'Cool tone' 'gift boxes'."Qfora is about to launch an official commercial service, and the opening of the Myeong-dong Post will also be the cornerstone of realizing the technology in life that encompasses the online community," said Hong Young-Min, CEO of Qfora's beauty·fashion-compensated Social Network Service, which will be officially launched this year.
https://m.news.naver.com/read.nhn?mode=LSD&mid=sec&sid1=101&oid=417&aid=0000371972